The new Esk & Tweed Network will be launched on 26th March at 7:30pm in Carlops Parish Church. An invitation is extended to members from all Eco-Congregation churches and to those who are interested in learning more about the Eco-Congregation movement.
Nan buchan is delighted to welcome Ewan Aitken, chairperson of Eco-Congregation Scotland, as the guest speaker.
Nan Buchan: "Those who have heard Ewan will know how inspirational he is as a speaker. We also hope that we will hear a short statement (lasting no more than a few minutes) from each attending church describing its location, size and perhaps an Eco activity. A break for refreshments, giving time to 'chat', will be included in the programme."
Read more about the meeting by clicking on the link: Network introduction
Check out the Esk & Tweed page for Network updates: http://www.ecocongregationscotland.org/networks/esk-tweed/
Directions for Carlops Parish Church can be found here: http://www.carlopschurch.org/location.html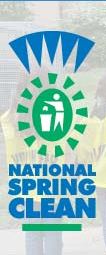 Join 200,000 volunteers in keeping Scotland beautiful. Scotland's biggest clean up, National Spring Clean, runs from 1st April – 31st May 2012. Find out more and register at: www.keepscotlandbeautiful.org/springclean 
A big thank you to all Eco-Congregations who are organising a National Spring Clean event or are taking part in an event organised by others. We hope you get wonderful weather for it!    
See our blog from 28th February: http://ecocongregationscotland.blogspot.co.uk/2012/02/national-spring-clean-2012.html

This year's WWF Earth Hour is at 8:30pm on Saturday 31st March 2012.
For more information about Earth Hour, including how to organise an Earth Hour event, please see our news item by clicking on the link: http://www.ecocongregationscotland.org/uncategorized/get-your-church-involved-in-wwf-earth-hour-2012/ 
Access the WWF Earth Hour webpage by clicking on the link: www.wwfscotland.org.uk/earthhour 
In Edinburgh: The Church of Pilrig St Paul's will be joining in Earth Hour.  The Church is hosting a concert of choral music by the Pilrig Chorus and during Earth Hour at 8.30pm the lights of the church will be dimmed. The concert, which is free, starts at 7.30pm and includes John Rutter's Requiem and other choral pieces, conducted by Martin Ritchie. 
In Arbroath: Earth Hour concert at Old & Abbey Church 
We are interested to hear from you about any other events taking place during Earth Hour. Please send us an email with details so that we can share the information! Email address:  oanshus
cofscotland
org
uk (oanshus
cofoscotland
org
uk)
The theme of our 2012 Annual Gathering is 'Behaviour Change', looking at local and global issues of sustainable living. 
We are delighted to welcome Stewart Stevenson MSP Minister for Environment and Climate Change as our keynote speaker. In the afternoon there will be opportunities to look at different aspects of behaviour change and how it can be brought about at home and abroad.
Malcolm Rooney, minister at Kirriemuir, will lead a workshop on the challenges of changing behaviour in presbytery based on his experience of promoting climate change action in Angus Presbytery.
Dane Sherrard, minister at Luss, recently attended the International Pilgrimage Conference in Assissi will lead a workshop on green pilgrimage.
Andrew Faulk of Consumer Focus will look at the financial support available to congregations to help them turn their commitment into action, including details of the new 'green deal'.
Christian Aid and SCIAF will jointly lead a workshop on climate justice and international development.
Charles Agoboklu of the Evangelical Presbyterian Church and interfaith climate change network of Ghana will tell us how churches in Ghana are helping people respond to climate change.
The Green Team of the Scottish Government will lead a workshop on the Climate Challenge Fund and the opportunities it offers congregations.
Please complete the Registration Form and email or post it to: 
Email: oanshus
cofscotland
org
uk (oanshus
cofscotland
org
uk)
Postal address:  Oyunn Anshus, Eco-Congregation Scotland,
121 George Street, Edinburgh, EH2 4YN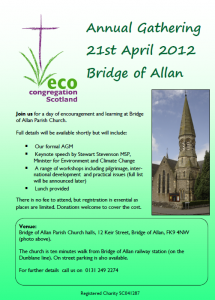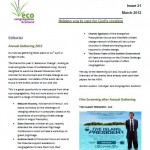 Our March Newsletter full of news and useful information is now available.
To download your copy go here (PDF file):
If you can not view PDF files then you may be able to view it here directly in your web browser:
Received from Kate Nash of St Mary's yesterday:
I thought you may be pleased to know that St Mary's Dunblane has been awarded a grant from the Climate Challenge Fund of just under £21,000. We are all delighted as this means we will be able to insulate the church hall, double glaze windows, cavity wall and ceiling. We will also be working alongside St Mary's Primary School and St Blanes Church in a monitoring of energy use.

I shall be attending the event for the announcement of grants at the Botanical Gardens in Edinburgh tomorrow night.
St Mary's is an eco-congregation. There will be more to follow on this as the project develops.