Dear Glasgow network members,
I hope this note finds you well, refreshed from summer holidays and not too wet!
April meeting 2012, Langside Parish Church: Thanks to Isabel and Iain Whyte for talking to us on the plight of the Palestinian olive growers and for bringing products to purchase & sample – quickly none left! We had a good turn out from members of our church plus others – maybe about 50 or more.
Following the talk we had a short meeting of the network group;  I took over from Sheena and we agreed to get together to share ideas, decide dates & venues and to make-up a programme for the year. I'd like to invite as many of you as can attend to a meeting at St Margaret's Episcopal Church 7.30pm on Wednesday 12th September. We will meet in the "Upper Room", please enter the church at the main hall door on Kilmarnock Road.
The church is easy to find, being prominent at 353 Kilmarnock Road, Newlands G43 2DS – just south of Shawlands shopping area, on the corner of Kilmarnock and Newlands Road. Easy to reach by public transport http://episcopalnewlands.org.uk/about-us/about.
I'd be grateful if you could let me know if you think you can attend, but don't worry; please just come along anyway! Don't hesitate to contact me if you have any questions and if you're unable to attend, please feel free to e-mail any ideas, suggestions or comments regarding future meetings of the network.
This year's Local Networks Seminar, will be held at Bridge of Allan Parish Church on Saturday 8th September 110am-3.30pm – the programme includes a review of the changes which have taken place in Eco-congregation in the past year, info &  ideas swap session and working with young people. Would anyone else from the network like to join me in going?
I look forward to hearing from you and getting together on the 12th!
Regards, Jan MacDonald
St Margaret's Episcopal Church, Newlands
The Norwegian Christian Network for Environment and Justice have created an Norwegian Church Action Agenda. Please click on the link to find new ideas or revisit old ones for your green group. You can access their website here.
Saughtonhall United Reformed Church, proud First Award Eco-Congregation Scotland winners hosted a wonderful award cermony on the 26th of August as part of their morning worship.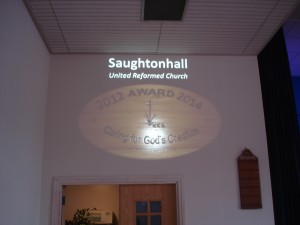 Ewan Aitken, our very own Chair of the Eco-Congregation Scotland Board, presented the award to elders Judith Petrie and Anne Davidson on behalf of the congregation (see left-hand photo). Angela Campbell, who carried out the award assessment, and local City Councillor Frank Ross were also present to celebrate their achievement.
Please see their website for more photos and information about their fantastic Eco-work.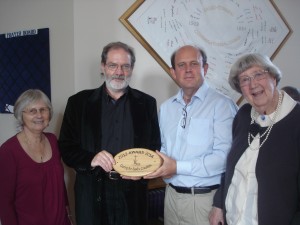 Left to Right are: Judith Petrie (elder and Eco group member at Saughtonhall Church), Ewan Aitken, Cllr Frank Ross and Anne Davidson (also elder and Eco group member at Saughtonhall Church).
Congratulations!
The Season of Creation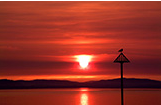 Life and Work, the Church of Scotland magazine has published an article about Creation Time, a Starters for Sunday series giving congregations an opportunity to reflect on environmental issues and to ask themselves "how should we live in the world" and "how should we take care of it"?
You can read the full article here and you can access the Starters for Sunday Creation Time resources here.
The SITA Tayside Biodiversity Action Fund is funding a Lichen Churchyard Workshop at Kirkton of Collace Church on the 8th September. Please see the Conference Poster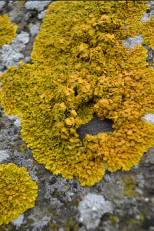 Scottish Churchyards are a very important refuge for lichens.  They often contain a wide range of rock types and other habitats which can lie undisturbed for decades and centuries.  These habitats can become colonised by a wide range of lichens – sometimes over 100 species in a single churchyard.  Some of these lichens can be rare and threatened. This workshop will be an introduction to how to identify the basic lichen forms; the affects of lichens on monuments; why lichens are important and how we can manage churchyards for them. 
Please click on the link to access the Booking Form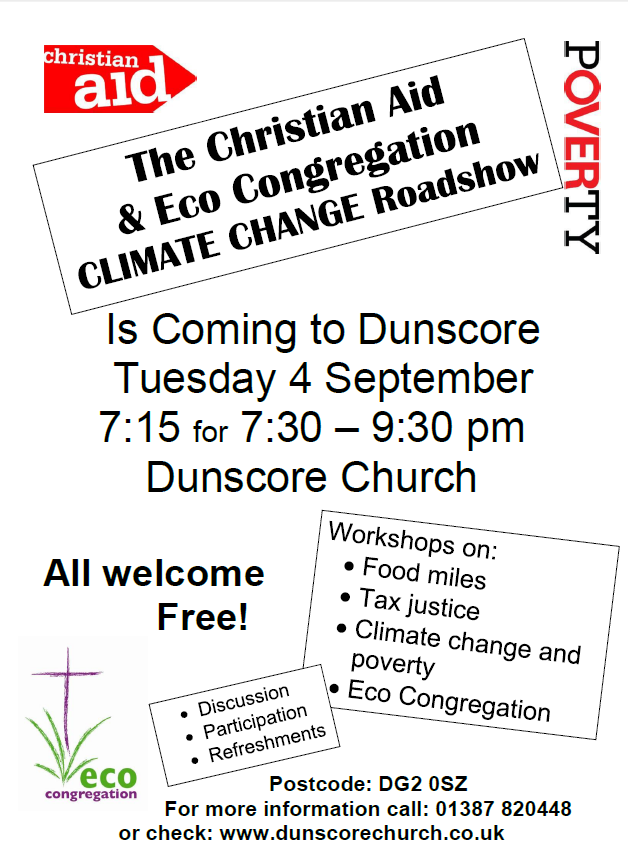 Click on the link to access a pdf version of the poster: Climate Change Roadshow at Dunscore
All Welcome!