We are delighted to extend, to the congregation, a very warm welcome to the Esk and Tweed Network.
 
Our Network has the problem of extending over a very wide geographical area but we can choose which meetings are feasable to attend and car-share whenever possible. The Network does provide a means of communication and enables member churches to keep in touch, exchange news and receive reports of meetings that were too distant to attend.
 
All churches are invited to attend our next meeting which will be held on Monday 11th. March in Penicuik North Kirk at 7.30pm.
 
Meanwhile we send our good wishes to the congregation in Melrose and look forward to future meetings and developing new friendships.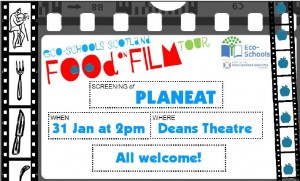 Eco-Schools Scotland
Food on Film Tour
THURSDAY 31ST JANUARY 2013
Deans Community High School Theatre, Livingston EH54 8PS Tel: 01506 282155
Film Synopses
2pm PLANEAT Runtime: 72 mins BBFC Certificate: U Where have we gone wrong? Why has the death rate from heart disease and cancer exploded in recent times? Against a backdrop of colorful and delicious food grown by organic farmers and prepared in the kitchens of world-famous chefs, Planeat for the first time brings together the ground-breaking studies of three prominent scientists who have made it their life's work to answer these questions. The award-winning PLANEAT inspires you to make the right food choices. Choices that can dramatically reduce your risk of heart disease and cancer; protect our environment and make our planet sustainable while celebrating the joys of food.
Cup of tea and biscuits at 3.30pm in the Library.
4pm FOOD, INC. Runtime: 94 mins Country: USA * BBFC Certificate: PG You'll never look at dinner in the same way… How much do we know about the food we buy at our local supermarkets and serve to our families? Though our food appears the same-a tomato still looks like a tomato-it has been radically transformed. In Food, Inc., producer-director Robert Kenner and investigative authors Eric Schlosser (Fast Food Nation) and Michael Pollan (The Omnivore's Dilemma) lift the veil on the food industry. With the use of animation and compelling graphics, the filmmakers reveal how a handful of corporations control our food supply. The system is highly productive, and consumers are spending less on food than ever before. But at what cost?
Download the poster here.
Contact Marjory McGhie (Marjory
mcghie
wled
org
uk (Marjory
mcghie
wled
org
uk) )  for further details. 
Cup of tea and biscuits  will be available from 3.30 – 4.00pm.
Rural Connect is a new project based at SRUC Oatridge campus.  Their aim is to reconnect people living in West Lothian with the (rural) environment. Over the next two years, their mission is to develop and deliver practical projects and community-based activities, set up community volunteering groups, help existing groups and deliver skills development training and learning activities to school pupils, local residents of all ages, groups from urban areas and West Lothian's rural business owners/managers.
They need to find out what people living in West Lothian think about their rural environment, and what kinds of things people want to engage and connect with; to do this they are conducting a survey online at:
https://www.research.net/s/ruralconnect 
Please spare 5 minutes to give them your thoughts! They also have a Facebook page at:
www.facebook.com/RuralConnectProject
Steven Cole is the newly appointed Canal Greenspace Development Officer of the Scottish Waterways Trust. He will be working with communities in Falkirk and West Lothian to help them discover, explore and develop the canals and greenspaces in their area. He intends to work closely with schools, particularly help children achieve the John Muir Award in the Year of Natural Scotland 2013. Click below for a short introductory newsletter that gives an outline of the type of work he will be doing.
Langside Parish Church has received their 2nd Eco-Congregation Award. Congratulations!
Principally the award was awarded for:
The congregation"s immersion in and commitment to environmental, community and peace and justice issues
The integration of creation stewardship themes into worship
The staggering amount of awareness and money raised for projects dealing with global justice and poverty.
After the church had a fire, the impressive rebuilding work which had creation care and environmental concern at its core
Well done!
Photo borrowed from: http://www.langsidechurch.co.uk/pages/sermons/Sermons%20at%20LPC.html
The meeting took place on 7.30pm, Monday 19th November 2012 at Falkirk Old and St Modan's Church
Networking
Falkirk Old and St Modan's gained their first award some time ago and have done a lot of work with recycling projects and have fairly recently installed low energy LED lighting in the church as part of their refurbishment project. Eco-congregation work formerly came under Peace and Justice group, whose work has now been split between a number of different groups. Caring for creation work now appears to be mainly the remit of the Christian Aid group. Will look at drawing up a new action plan after going through the Church Check Up again.
Livingstone Local Ecumenical Parish, Knightsridge had a successful summer Sunday School project on the theme of "For the Beauty of the Earth". This included some lovely artwork from the children and a themed service. The church meets in a community hall and has created a wildlife and butterfly garden there. They have recently devolved management of this to the local community. The church is continues to be active on Fair Trade with Traidcraft.
Marjorie has been the network's rep on the West Lothian Environmental Support Group for some time, which has been a useful link. The Group is also considering setting up a West Lothian Wildlife Blog for the Year of Natural Scotland (2013) to record sitings etc. Jo agreed to take over as the network rep and Marjorie will forward details.
Torphichen has recently welcomed Sandi McGill as their new minister. They are planning to get involved with students and pupils through "Go Green Week" in February and through the children will target their parents. Local head teachers are very open to working with the church on green issues and it is planned to have a service on the theme and invite the local community. They are planning to work on a "Food" topic and will look at food diaries from the point of view of both the environment and health.
The link with Magina Church in Malawi is still very much alive and has also been taken on by the schools. They are looking into the possibility of "solar slates" for the church roof to enable the generation of renewable energy.
News from Eco-Congregation
The Local networks Seminar took place on 8th September with representatives from 12
networks attending, including two from Angus.
Topics discussed included:
Planning for next meeting(s)
It was agreed that 3 meetings in 2013 would be appropriate for the network.
February – Visit to Avondale Landfill Site
Action – Jo to contact and arrange a suitable date and time
May / June – Food theme at St Ninian's Craigmailen, Linlithgow
Action – Margaret will contact St Ninian's to see if they are able to host and identify a suitable
date and liaise with Jo. Jo will contact a possible speaker, who is with the Food Standards Agency and investigate a
contribution from the "Slow Food" group in Linlithgow.
October / November – Networking: sharing ideas, inspiration and challenges
Action – Margaret will contact Pardovan, Kingscavil and Winchburgh to see how they are
getting on as an eco-congregation and ask if they might be able to host this meeting.
Letter published in the Scotsman:
Gas let-down
I was disappointed to learn that the Chancellor intends to signal an expansion in the use of natural gas for electricity generation when he unveils the government's gas strategy later this week.
Although I applaud the Secretary of State for Energy and Climate Change's support for 
renewables, I am calling on him to stand firm in his convictions and stand up against the continuing long-term role for fossil fuels in the UK's energy generation.
Any expansion of the use of natural gas will prolong the UK's dependence on fossil fuels and will make it all the more difficult to meet the carbon 
targets set out in the UK Climate Change Act. It also sends out a poor message to the rest of the world about how seriously the UK Government is taking these
targets, especially in the context of the current ongoing meeting of the UN Climate Change
Conference at Doha.
At a time when the international community is desperately looking for leadership to address the worsening crisis of climate change, the UK Government is yet again engaged in an internal wrangle between the Chancellor and the Department of Energy and Climate Change.
(Rev) Sally Foster-Fulton
Church of Scotland's Church and Society Council