Eco-Congregation Scotland Annual Gathering 2017
Saturday 22nd April 2017, 10:00am – 3:15pm
Burnside Blairbeth Church,
Church Avenue, Burnside, Glasgow, G73 5BX
In the last 12 months we've seen the ratification of the Paris Climate Change Agreement, Scotland meet it's green-house gases reduction targets and Holyrood debate an ambitious new climate change strategy.
But looking ahead we face the environmental, political, and economic uncertainty of a post-Brexit Union, an aggressively pro-fossil-fuel administration in The White House, and a nation in which 1 in 10 Scottish species is at risk of extinction.
So how do we continue Caring for Creation in Times of Change? What does that mean?
Author and keynote speaker, Alistair MacIntosh, will be speaking on themes from his latest book, Poacher's Pilgrimage: An Island Journey.
The day will offer a chance to network with other Eco-congregations and attend workshops from Christian Aid, Tearfund, Meet-Your-MSP Project, RSPB*, and the Scottish Pilgrim Routes Forum
At this year's event, we hope the day of talks, workshops and networking will equip and inspire you to go forward with practical inspiration, encouragement, and hope.
Program*
10:00 Registration, teas and coffees
10:30 Worship
10:45 AGM
11:10 Keynote speaker: Alastair MacIntosh
11:30 Questions and discussion
12:00 Lunch
13:00 Workshops (1)
13:45 Tea and Coffee Break
14:10 Workshops (2)
15:00 Closing discussion
15:30 Finish
Workshops
You'll be able to sign up for workshops during registration on the day. There will be limited spaces on each workshop so places will be allocated on a first come first serve basis. We've already confirmed workshops from Christian Aid, Tearfund, Meet-Your-MSP Project, and the Scottish Pilgrim Routes Forum but we're not ready to share what they'll be talking about just yet – so watch this space!
Location and Transport
Address
2 Church Avenue, Burnside, Glasgow, G75 5BX
Public Transport
To get to Burnside station take the Newton line train from Glasgow Central. The church is five minutes walk from Burnside station (0.2 miles) .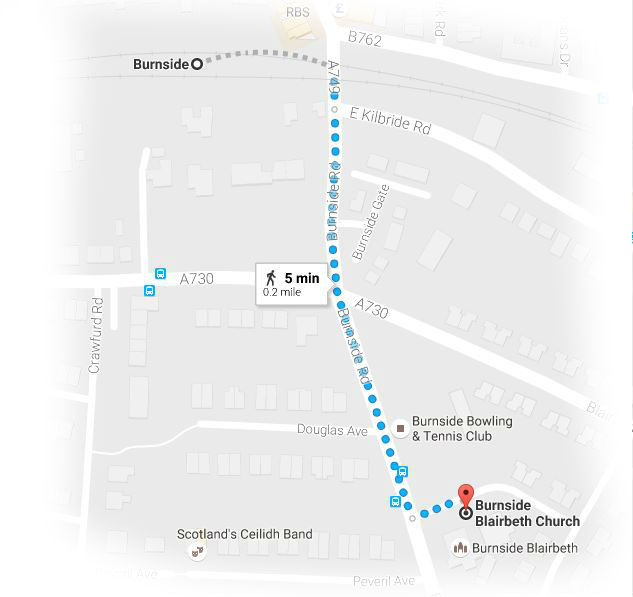 Journey time from Edinburgh, allowing time to get from Queen Street to Central Station is about two hours.
First Bus service no. 18 serves the area as well as SimpliCITY 7A –  Click here for the timetable.
Parking
There is plenty of on-street parking in Church Avenue and Burnside Road. Journey time by car from Edinburgh is just over an hour.
Disabled Access
The building is fully accessible by wheelchair. Please use the ramp access which avoids the external stairs. This is located around the side of the church and takes you round to the front door.
Booking
Use this form to book your place online.
Please Note, if you are booking for more than one individual, please include their names in the box provided. Failure to do so could result in a place not being reserved for them and/or their requirements not being met. 
There is no booking fee but we invite donations of £15 per person to cover the venue hire and catering costs. These will be collected on the day. Please do not send us any money now!