Last Sunday, Knightsridge Church's Summer Sunday School Project 2012 was dedicated with a special creation service entitled, "For the beauty of the earth" In appreciation of all the hard work, the young people were each presented with a personalised "God Bless You" mug featuring the Eco-Congregation 2nd Award plaque.
The finished artwork entitled, "God, The Father of Creation",  comprises photographs taken by the young people inserted into fabric squares individually designed with fabric dyes and paints.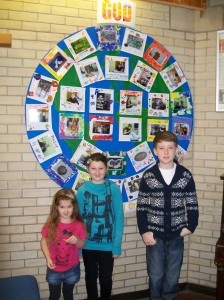 Photo: l –r  Rebecca Pratt, Tia Coles and Liam Lawson of Livingston Ecumenical Parish – Knightsridge Church. 
Photo by Marjory McGhie