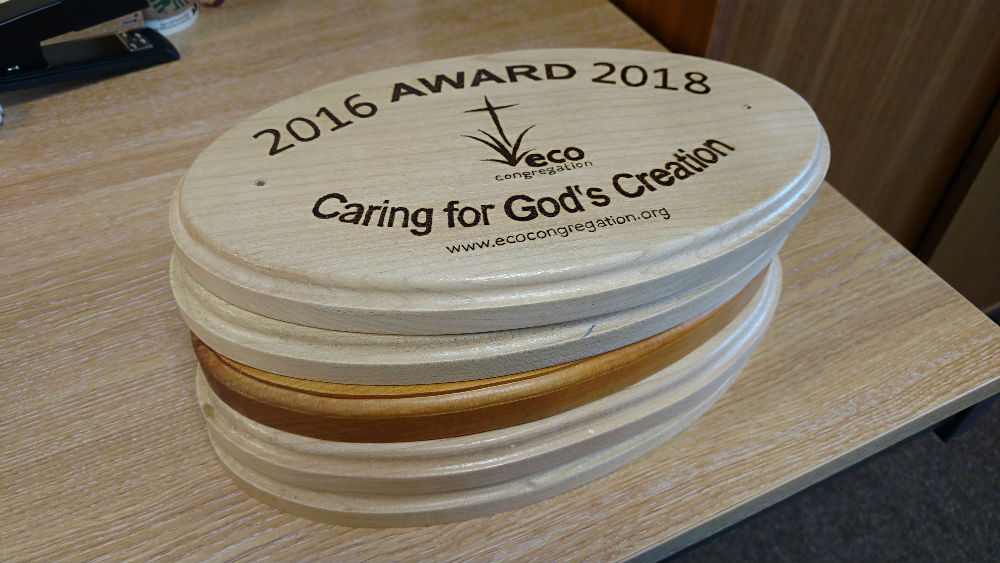 The Eco-Congregation Awards are an important part of the Eco-Congregation programme.  You will see our award plaques outside churches across Scotland. These are made from recycled church pews by the Grassmarket Community Project.
We encourage all eco-congregations to take part in the award process after they have been taking part in our programme for some time, but it is not compulsory.
There are currently award-winning congregations all over the country, which you can see on our interactive map
The awards are assessed by independent assessors and designed to recognise achievement, affirm good practice that promotes or contributes to sustainability and witnesses to the importance of caring for creation.
Many churches in Scotland have already received Eco-Congregation Awards in recognition of the creditable environmental work they have done and their continuing commitment to integrating creation care into their church life including:
Involving a number of people from across the church community in working through the Church Check-Up and in undertaking particular initiatives.
Forming links with or involved other people in the local area.
Seeking and gained support (time/money/advice) from other organisations / congregations / the local Eco-Congregation Scotland network.
Forming a 'Green Team' to plan, review and monitor progress.
Award Process
We have tried to make the award process as straightforward as possible, consisting of completing a short application form and facilitating an award assessment visit to your congregation.
Below is a list of documents relevant for the award process:
Application forms
There are different application forms depending on whether you are applying for you first, second or third award. Please download and complete the relevant document.
Other documents
Please contact us if you are experiencing problems accessing or using any of the award process documents.
If you would like to appeal the Award decision you can access our Award Decision Appeal Process